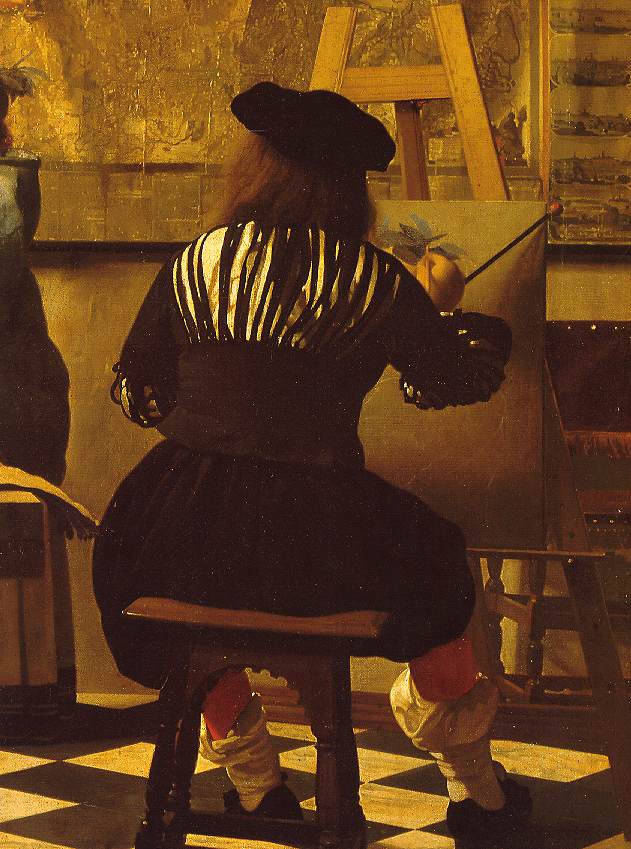 Vermeer's artist, from ibiblio.org
We are social creatures for a reason: It improves the likelihood of our survival. Together we can do things we could never accomplish alone. Culture, the shared beliefs and behaviours of a group of people working collaboratively, is powerful (though alas, that power, when co-opted by charismatic or psychopathic individuals, gangs or elites, can be terribly destructive and dangerous).
Just as we are part of a culture (and/or subcultures and/or "alternative" cultures), we are also a part of a greater whole, the organism of all-life-on-Earth, which has collectively self-regulated for more than a billion years to optimize the survival, diversity and joy of our lives.
And we are, in turn, made up of organisms, which have given us the illusion of being a single creature by evolving a collective "consciousness". That collective consciousness is extremely useful, allowing the organisms that make up "us" to act "single-mindedly" (especially useful in times of fight-or-flight crisis).
So we are constantly processing three sets of messages that produce three different worldviews of who we are:
Messages from our component organisms, both conscious (directed through our brains) and subconscious (instinctive, programmed and somatic).
Messages from our culture, telling us who "we" are, what to believe and what to do.
Messages from the global organism ("gaia") telling us how to adjust our behaviour and adapt to changes for the optimal well-being and balance of all life on the planet.
There is a huge amount of dissonance between these messages. For example, our component organisms (preoccupied with "our" own survival and procreation) might be telling us to make overtures to someone we find sexually attractive, while our culture might be telling us that such overtures are socially inappropriate in the circumstances and should be avoided, and while gaia is telling us that, in light of the horrific overpopulation of humans on our planet, we should not procreate and should be focused on rebalancing the world instead of preoccupied with our personal appetites.
When we fall in love, this dissonance is temporarily resolved in favour of the messages from our component organisms, as our body's chemistry takes control of us. But only for a while – soon enough, the terrible dissonance returns.
For many of us, I think, this dissonance is paralyzing; it renders us ill, physically and mentally, and ultimately we get exhausted trying to handle it so we become desensitized, shut down. Such behaviour has been observed in rats subjected to severe protracted overpopulation stresses: the alphas become violent and sexually aggressive and hoard scarce resources, while the rest become mentally ill, withdrawn, and suicidal, and many eat their own young.
As a result, I think, when this dissonance becomes overwhelming we tend to dissociate, to start to retreat into and live in our own world, in our head, where we can ignore these conflicting messages and the unsettling and confusing behaviour of the increasingly anonymous crowd around us. We end up telling ourselves oversimplified stories about who we are, and what we're supposed to do, and ignoring our instincts, our bodies, our senses, our emotions, our physical reality, and people with ideas and beliefs different from our own.
So when I walk down a city street, I don't really "see" anyone, nor do they really see me. They are, I suspect, accepting as "true", and engaged by, "news" that I see as nothing but lies and oversimplifications. They are, I tell myself, amused and entertained by "popular" books, music, films and "programming" that I find inane, cultural propaganda, or just plain wrong. The conversations and recreations that seem to enthrall and entrance them, I find meaningless, vapid, unforgivably stupid and a waste of time that, I think, should be spent dealing with the looming crises of our century.
Of course, I can't really know. We are all, despite our a-part-ness, ultimately utterly alone. We may live in the same place, walk the same streets, but it is as if we all live in different universes.
How can we hope to achieve community when our physical neighbourhoods consist mostly of exhausted people with utterly irreconcilable and profoundly conflicted worldviews, living in private, separate worlds inside their heads? When we live in such an atomized society, how can we really know anyone else, enough to be able to perceive more than an idealized, abstract, outline view of who we think they are, or wish them to be?
And if we don't know them, how can we care about them or what they believe or do? This is the crux of this dissociation, this disconnection from community and gaia and even our own bodies: we can only care about what, and who, we know.
And what hope is there in this isolated tumult to be able to find the right partners for the life we're meant to live and the work we're meant to do? What hope is there, really, to even inform others of what we know about how the world really works, or help them imagine a better way to live, when there is no shared context of reality, of community, and of caring to enable any meaningful communication to occur?
Over on Dark Mountain we're debating our role as artists in re-presenting the world as it really is and imagining it as it might be. I recently posted an article there asking whether our role is merely to do our job as artists – to put our writing and art out there – or whether we have a responsibility to articulate it in a way that is accessible and understandable and hence actionable to the world.
But I wonder whether the latter is even possible when we're all living in our own worlds, and whether the perception we have of being a part of social groups, the perceptions of intimacy and belonging and connection are just self-delusions, wishful thinking. With this technology that allows us to have a thousand "friends", do we really have any at all, or is the friendship of others just something we convince ourselves we have because without it our lives would be unbearably lonely?
As I mention in my Dark Mountain post, Derrick Jenson in this month's Orion berates us for not doing enough, and specifically for doing anything that does not contribute to the urgent task of trying to save our world from collapse, labeling such activities as "unforgivable". In the article he cites an essay by cartoonist Stephanie McMillan that asserts:
In times like these, for an artist not to devote her/his talents and energies to creating cultural weapons of resistance is a betrayal of the worst magnitude, a gesture of contempt against life itself. It is unforgivable… Let us not be the system's tools or fools. Artists are not cowards and weaklings — we're tough. We take sides. We fight back…
It is our duty and responsibility to create a fierce, unyielding, aggressive culture of resistance. We must create art that exposes and denounces evil, that strengthens activists and revolutionaries, celebrates and contributes to the coming liberation of this planet from corporate industrial military omnicidal madness.
Pick up your weapon, artist.
Once we've learned the truth about this terrible world, is it our responsibility to devote the rest of our lives, every waking moment of our lives, to the work of fighting to prevent it getting worse? Or should we give ourselves a break and allow ourselves time to simply enjoy the wonders of the world and life and love? How much time?
And how far does our responsibility extend beyond doing what we must, what we do well, and what we enjoy doing? What should we do about the billions lost in their own worlds of ignorance and denial and distraction who are not ready to listen or change and never will be until it's too late, and who are, collectively and indifferently, killing the world we love, even as those who know better and who are listening are working to save it?
How can we let them go on? And if we can't, how can we stop them?
Lots of questions, for each of us – activists, healers, artists, facilitators, innovators, researchers, builders and connectors – to answer, in our own way. And wonder, as we struggle to reconnect, and to acknowledge our complexity and the astonishing ability of all-life-on-Earth to self-organize in our collective self-interest, just what is possible, now.